Aims and scope
Aims and scope
The International Journal of Concrete Structures and Materials (IJCSM) provides an international forum for international civil engineers and material scientists to present and discuss various topics related to concrete, cement-based composites, polymer concrete, fiber-reinforced concrete, and concrete structures. Topics include, but are not limited to, research results on
Concrete materials and structures
Advanced experimental techniques for concrete or cement-based composites
Advanced modelling technologies about concrete materials and structures
Microstructural characterization of concrete or cement-based composites
Advanced concrete structural system
Fiber reinforced concrete technology
Concrete waste management
IJCSM also publishes Review articles and Discussions.
IJCSM is currently published under the auspice of the Korea Concrete Institute. In addition, scholars from over 17 countries have contributed as editorial members for IJCSM, helping the world's top scholars to publish their best research papers.
Associated Society
International Journal of Concrete Structures and Materials is affiliated with Korea Concrete Institute.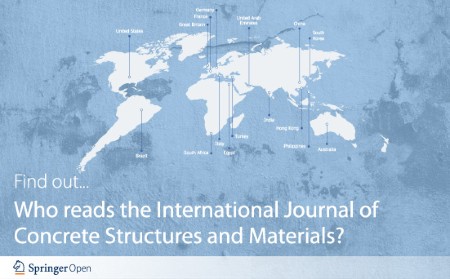 Learn more about the impact the International Journal of Concrete Structures and Materials has worldwide

ISSN: 2234-1315 (electronic)